Yakima Fatcat Evo 4 Black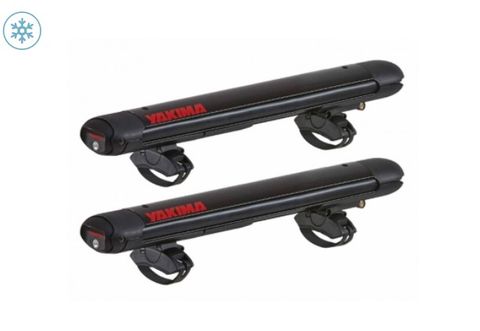 The FatCat EVO is Yakima's sleekest, quietest, and sweetest ski & snowboard mount. It is wide enough to carry four pairs of powder skis – up to 136 mm at the tip – or two snowboards. FatCat EVO mounts tool-free on virtually any roof rack.
SKS locks are built in for added security, and the mirror black finish looks awesome on your roof. For T-Slot crossbars, add the SmarT-Slot Kit 2 for a super sleek setup (sold separately).
Features
Easily carries four pair of skis – up to 136 mm wide at the tip - or two snowboards
Looking to carry more? Check out the FatCat Evo 6!
Aerodynamic design delivers a quiet ride and streamlined good looks
Universal mounting system works with round, square, factory, and most aerodynamic roof racks
Integrated SkiLift provides clearance for tall bindings
DoubleJoint™ hinge expands for easy use with thick skis and boards
Large button makes it easy to open with gloves or mittens on
Sleek mirror black finish looks great on your roof
For easier access to skis and snowboards, the HangOver™ clamp-mounting position shifts the mount further out on your vehicle's roof rack
Integrated SKS (Same Key System) locks included
Compatible with T-slot crossbars – just add our SmarT-Slot Kit 2 (sold separately)
Dimensions : L 77.5 cm x W 9.5 cm x H 13.3 cm