Home

/

Yeti Panga Submersible Duffel 75 - Storm Grey
Yeti Panga Submersible Duffel 75 - Storm Grey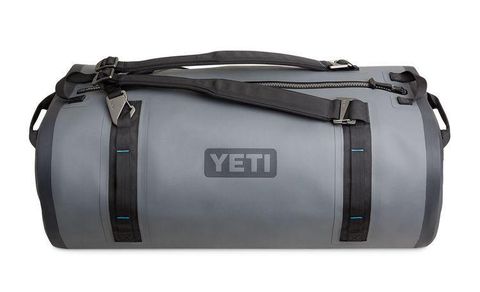 Availability:
In Stock
In Stock
Description
Is anything you pack on a multi-night trek a non-essential? No. So everything from your sleeping bag to your left sock needs to be accessible and 100% dry. With Panga 100 our largest, absolutely waterproof dry duffel, you're on the right side of prepared
EVA MOLDED BOTTOM
EVA molded bottom provides a sturdy and waterproof landing pad for the Panga.
THICKSKIN™ SHELL
Laminated, high-density nylon is nearly impenetrable to nature's assaults.
STOWAWAY MESH POCKETS
Two easy-to-access mesh pockets keep your valuables safely tucked away.
ADDITIONAL FEATURES
HYDROLOK™ ZIPPER
This is where the magic happens. Water stays out. Everything inside stays dry.
METALLOCK™ HARDWARE
Tough-as-nails, simple-as-rocks.
QUICKGRAB™ LASH POINTS
Gear up quickly. Six total lash points are designed for versatile carrying strategies.
DRYHAUL™ STRAPS
Comfortable and durable – whether it's strapped to you or the horse.