Home

/

Rhino Pioneer Tradie Platform
Rhino Pioneer Tradie Platform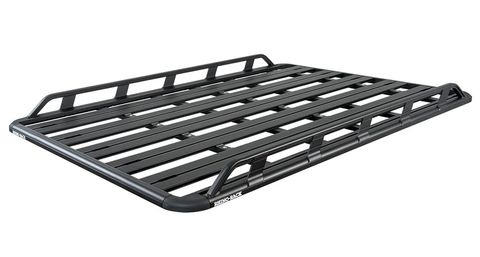 Availability:
Pre-order
Pre-order
Pre-order
Pre-order
Pre-order
Pre-order
Pre-order
Pre-order
Pre-order
Description
Rhino Pioneer Tradie Platform
The Rhino Pioneer Tradie is designed to transport ladders, pipes and work-related products like timber on your 4WD or utility. Made from reinforced nylon and aluminium the Pioneer Tradie stands up to the toughest conditions you can throw at it. Perfect for carrying longer loads as the added rails provide support
The powder coating is non-corrosive and the Tradie colour won't fade in the sun. Choose the Pioneer Tradie for work and adventure because it works as hard as you.
Unlike standard Pioneer Platforms the Tradie comes with side rails as standard. The fully-welded side rail makes loading and unloading your gear easier by making use of simple hand grips. Relax knowing that your equipment is safe on the road.
At the weekend campers and explorers will love the Tradie's compatibility with the Rhino Jerry Can holder, Luggage Bag, Spare Wheel or Foxwing Awning. Then get back into work on Monday and add the shovel and high lifting bracket, Rhino ladder, or Pioneer Combination Bracket just to name a few.
Get out on the road quicker without having to leave any of your gear at home. So whether you're heading to the coast for a weekend of fishing, tackling a new project, or travelling on an overland adventure the Pioneer Tray is the ideal transport solution for you.
Features
Stylish and aerodynamically designed
Minimal wind drag and noise on the road
Non corrosive so it won't rust or fade
Made from reinforced nylon and aluminium
Allows you maximum carrying capacity
Includes a fully welded closed rail for extra strength
Side Bars included with the Pioneer Tray
Compatible with many Rhino-Rack accessories
Versatile between weekends and work days
Hand grips on side rails for ease of loading
Rhino Pioneer Platforms are designed and sized to fit specific vehicles only. To see if there is a Pioneer Platform that will fit your vehicle, please call the team at the Roof Rack Shop on 09-486 6650
Prices Do Not include Foots packs or fit kits.
| | |
| --- | --- |
| RHINO PIONEER TRADIE PLATFORM | |
| 45109B | 1328 X 1236 |
| 45110B | 1328 X 1376 |
| 45100B | 1528 X 1236 |
| 45101B | 1528 X1376 |
| 45102B | 1928 X1236 |
| 45107B | 2128 X 1236 |